In addition to my love of nonfiction storytelling, I am also passionate about making media accessible to the widest possible audience, including those with low vision, hearing, or mobility. The two major efforts I am involved in are:
All Senses Go – I lead an initiative dedicated to advocacy within the film community by highlighting the importance of captions, description, and inclusive events. All Senses Go empowers media producers to create barrier-free media, in order to ensure that all audiences, regardless of ability, can engage in the rich cultural content being shared every day. Please visit allsensesgo.com and follow us on Facebook!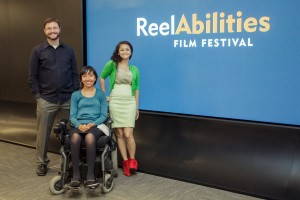 ReelAbilities Chicago – I collaborate with Reveca Torres of Backbones Online and Grishma Shah of ADA 25 Advancing Leadership to bring the Reelabilities Disability Film Festival to Chicago every other year. Stay tuned for news about future festivals and events!